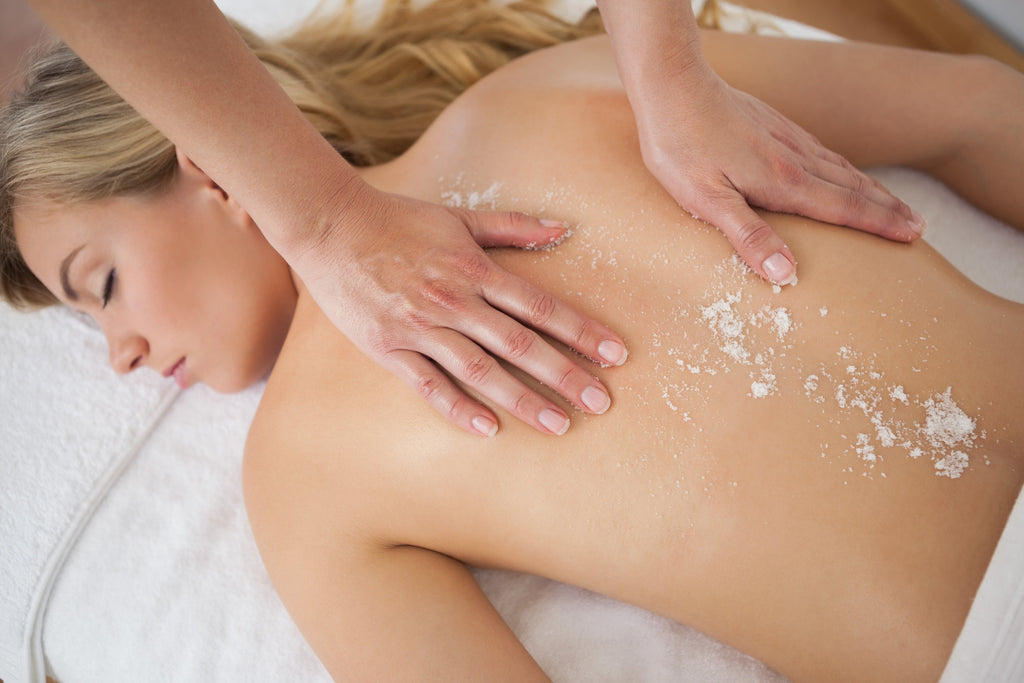 To facilitate a steamed scrub, a practitioner would perform their body scrub as usual, but add steam to the area that is being scrubbed with a facial steamer (those are the spa machines that stand about 3 to 5 feet high on wheels and blow steam from the steamer arm).
Keep the steamer arm about 14 to 18 inches from skin/scrub area. If the skin becomes red, the steamer may be too close to the skin or the scrubbing is too hard (especially with sensitive skins). Watch the skin for redness and adjust accordingly.
Move the steamer and steamer arm around to the different areas of the body being scrubbed, as shown in the training video.
Remember, that the steam time may not last longer than 10 to 20 minutes, so turn the steamer off while not scrubbing to ensure there is enough steam for the full body.
Steamed scrubs are particularly fabulous for athletes, and other clients who might spend long periods of time in the sun.  Athletes who spend many hours training might find their skin in less than ideal condition, so a steamed scrub service not only removes dead skin and can help moisturize the skin, but they will also benefit from the thermal therapy and soft tissue manipulation as well.
Some steamers have an area where aromatherapy or essential oils can be added. If you can add aromatherapy to your steamer, you should chose something that's ideal for the client's needs.  Our basic aromatherapy training provides common uses of over 25 different essential oils, and is great information when selecting different aromatic essences for clients benefit.  We suggest using a mint-family essential oil with sports treatments to refresh and energize the air.
When adding this service to your service menu, suggested treatment names include:
Full Body Car Wash
Sports Steam and Scrub
Athletic Body Polish
Full Body Refresh and Renew
Full Body Facial (when adding full body moisturizing treatment after the full body scrub and scrub removal)
It is suggested to upcharge an additional $20+ to add steam to a full body scrub service. There is no extra time added to the scrub appointment, and minimal expense between distilled water and electricity to run the steamer.
You can learn more about how to perform this service in our Aromatherapy and Master Therapy Tools & Microtreatments training classes at CE Institute LLC.
 #aromatherapy #aromatherapyscrub #steamedscrub #bodyscrub #fullbodyscrub #sports #sportsmassage #health #medical #cosmetology #esthetics #skincare #massage #massagetherapy #lmt #massagetherapist