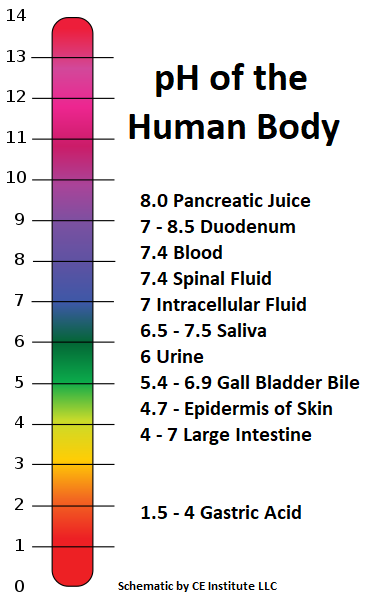 Author:  Selena Belisle, Owner/Instructor, CE Institute LLC, Miami FL 
The definition of "pH" is also know as Potential or Power of Hydrogen.  Many earthly substances have a pH "rating".  The rating/assignment system of pH uses a numeric scale of 1-14. 
Substances rated below a pH of 7 are considered "acidic"
Substances rated with a pH in the 7ish range are considered "neutral"
Substances rated above a pH of 7 are considered "alkaline"
Most of human body's internal fluids such as saliva, urine and blood have a pH rated between 7-8 on the alkaline side of the pH scale.
The external skin of our body however has an acidic pH, around 4.7 pH. The level of skin acidity can differ from person to person, and this pH difference can be further altered when topical ingredients are applied to the skin (i.e., sunscreen, perfumes, moisturizers, etc.)
According to research published in the International Journal of Cosmetic Science, the "natural skin surface pH is on average below 5".[i]  This research about the skin's pH states the following:
the use of water, soaps or cosmetics can change the skin's pH to a 6+
it is estimated that the 'natural' skin surface pH is on average 4.7 after refraining from showering and cosmetic product application for 24 hours
skin is in "better condition" when it has a pH value below 5
This acidic pH of the skin is also known as the "acid mantle" or "acidic mantle".  This slightly acidic film on the skin (aka acid mantle) is formed when sebum and sweat mix together on the skin.  The acid mantle creates an "unfriendly" environment for bacteria, viruses, and other pathogens that come in contact with human skin.
As such, it is important for service providers to work with products that are "pH balanced" to preserve a client's acid mantle, especially with geriatrics, oncology or HIV clients, or any other population that has a suppressed or compromised immune system. 
If your service required a product that is not "pH balance" – such as an acidic peel, it is important to use products that can return the skin's pH to its normal value after the "peel" service is complete.
When selecting professional products, it is important to review the pH of products with the manufacturer.  Ask the manufacturer about the pH of their products and ensure that the clients leave your place of business with properly balanced pH skin after salon or spa services.  SDSs often list the pH value of an individual product, so ask a product manufacturer for their SDSs when evaluating their products and use.
It's important to know about pH because many moisturizers and creams can be very alkaline.  This alkaline pH can feel soothing and wonderful to the skin; however, extreme alkaline moisturizers are not recommended because they alter the skin's pH/acid mantle to "fight" skin bacteria.  Your skin and it's acid mantle are one of your body's best defense systems to fight external bacteria, virus and overall germs.  As such, it's important to know the pH of skin, and the pH of everything we use in our work when we apply a product to it :) 
_________________________
Author Selena Belisle is the Founder of CE Institute LLC in Miami FL.  She is a retired professional athlete and has been practicing massage therapy for over 30 years.  Selena is an approved CE Provider with NCBTMB & the Florida Board of Massage.  She now teaches full time for the Complementary and Alternative Health Care Industries. You can learn more about Selena's training and CE classes at www.CeInstitute.com
[i] Lambers, H, et al. "Natural Skin Surface PH Is on Average below 5, Which Is Beneficial for Its Resident Flora." Advances in Pediatrics., U.S. National Library of Medicine, Oct. 2006, www.ncbi.nlm.nih.gov/pubmed/18489300.
#cosmetology #nailtechnician #manicure #pedicure #safety #safetyfirst #salon #spa #business  #disinfection #cleaning #mani #pedi #massage #massagetherapy #massagetherapist #bodywork #bodyworker #lmt #massageestablishment