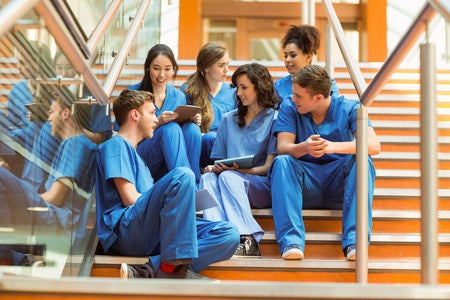 by Sandy Fritz
.
I know there is a lot of talk about how employers mistreat employees. Well employees ALSO mistreat employers.
I have been an employer of administration staff and teachers for my school for 35 years and massage therapy, esthetician and for the past 6 years support staff at my family's franchise business. I am sharing my experiences which are common experiences.
I also want to note that our staff at
Massage Green Spa
are excellent and I appreciate them every day. All massage therapists are graduates from my school.
If I experience issues as an employer with this team just imagine how difficult it can be for others. Also there are employers who are not team players and do a poor job managing their business. If you are an excellent employee DO NOT work for a bad employer. And great employers should not hire difficult employees and dismiss those who cause trouble or do not support the business.
NOW,
The employer/employee relationship should be a team approach.
Over the years that has been my experience about 3/4 of the time. The rest of the time it has been a nightmare.
Teamwork only works when all take care of responsibilities. One of my pet peeves is entitlement. I really get ruffled when I hear " not my job".
Listen, If I can clean the bathroom so can everyone else.  Another is " Suzy didn't do it so I won't either." Errrrr-----.
The other is NOT showing up on time when scheduled. Also hiding during work time to avoid tasks. I really snarf when that happens.
I also just about sold the school years ago because I could not stand the constant bickering between administration staff and instructing staff. Same at the spa. It also rattles my chain when people gossip and constantly are in some sort of drama. When you are at work you are at work dog gone it.
There have been months that I have gone without a paycheck from the school and the spa has yet to pay us owners, but always made sure the employees were paid.
Business owners in a new business often do not make enough profit for 5 years to take any income from the business. That is one of the risks of business ownership. When listening to how an employee feels like they are taken advantage of makes me bristle. I have been embezzled, stolen from and had to replace equipment over and over from careless use.

I still have the massage therapy school and I still have employees but these days when they are high maintenance and a pain in my glutes they are dismissed.

Employees: seek to understand business operations and commit to being an excellent team player. Before complaining about wages make sure you are being realistic and if you feel unfairly treated become self-employed.

Employers: you are obligated to be an excellent employer and it is helpful to be transparent with your staff. The excellent staff deserve wages that reflect their skills and commitment to the business, your attention, excellent business management, appreciation and support. It is also your responsibility to dismiss problem staff and maintain a cooperative work environment.

Employers deserve to have at least the same income as the staff and it is reasonable for the employer to eventually have an income increase reflecting the time involved and the risks taken to maintain the business.
___
Sandy Fritz a well renowned massage therapist with more than 35 years of experience. She dedicates her time to writing massage texts for Mosby Publishing (Elsevier), educating, consulting, teaching, and providing massage to a mixed clientele. You can view or purchase Sandy's textbooks at: https://www.us.elsevierhealth.com/catalogsearch/result/?filter_multi_product_type=&q=sandy+fritz
Disclaimer: The opinions expressed in this blog are those of the author. They do not purport to reflect the views or opinions of CE Institute LLC.
#massage #LMT #bodywork #bodyworker #massagetherapy #employer #employee #employment #contractor #independentcontractor #responsibility #business #massagebusiness