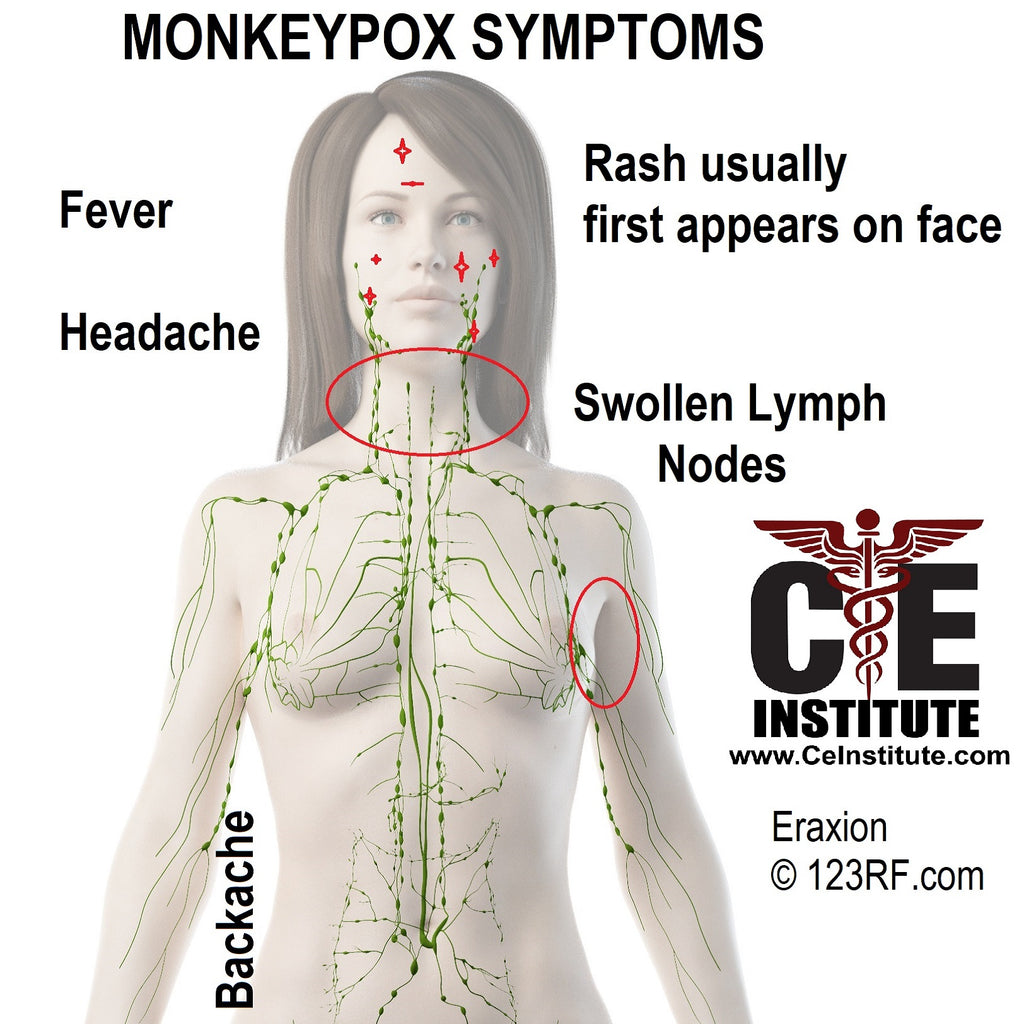 by Selena Belisle, Founder/Instructor, CE Institute LLC
Monkeypox is a virus that is new to the United States which can be transmitted from person to person. This is concerning for massage therapists, because it is thought that contact with an individual's skin lesions will transmit the virus.  Fortunately, most massage therapists already know that skin must be whole and intact prior to working on it.
One of the reasons why skin must be intact for massage service is because of the risk of infection, even when a client does not have an infectious condition.  Your integumentary system is part of your physical immunity.  Intact skin helps prevent harmful pathogens from physically entering your body. Pathogens can find almost a direct route to a client's blood circulation when skin is compromised or broken.  Also, our hands cannot be sterilized.  Excellent hand hygiene will never eliminate all bacteria, viruses and pathogens on our hands.  As such, massaging broken skin is not an option because we would be literally introducing all pathogens from our hands, direct into the client's soft tissues, which leads direct to the client's blood stream, not to mention all of the pathogens on the client's own skin would also be introduced.
There are other monkeypox symptoms that could lead a client to a massage establishment office seeking relief.  Luckily, therapists know not to work on clients with fever, or new undiagnosed swelling or pain, which are also side effects and symptoms of monkeypox.
Massage Magazine published our article on What Massage Therapists Need to Know About Monkeypox this morning. You can review this article on Massage Magazine's website by clicking HERE. Today's article examines up-to-date information as of Friday, June 3, 2022.  To stay up-to-date, please visit the CDC and WHO organization's websites for the latest information at:
The Centers for Disease Control and Prevention website link for monkeypox information is: https://www.cdc.gov/poxvirus/monkeypox/index.html
The World Health Organization's website link for monkeypox information is: https://www.who.int/health-topics/monkeypox#tab=tab_1
#monkeypox #massage #lmt #massagetherapy #massagetherapist #bodywork #bodyworker #contraindications #spa #virus #healthcare #mld #manuallymphaticdrainage