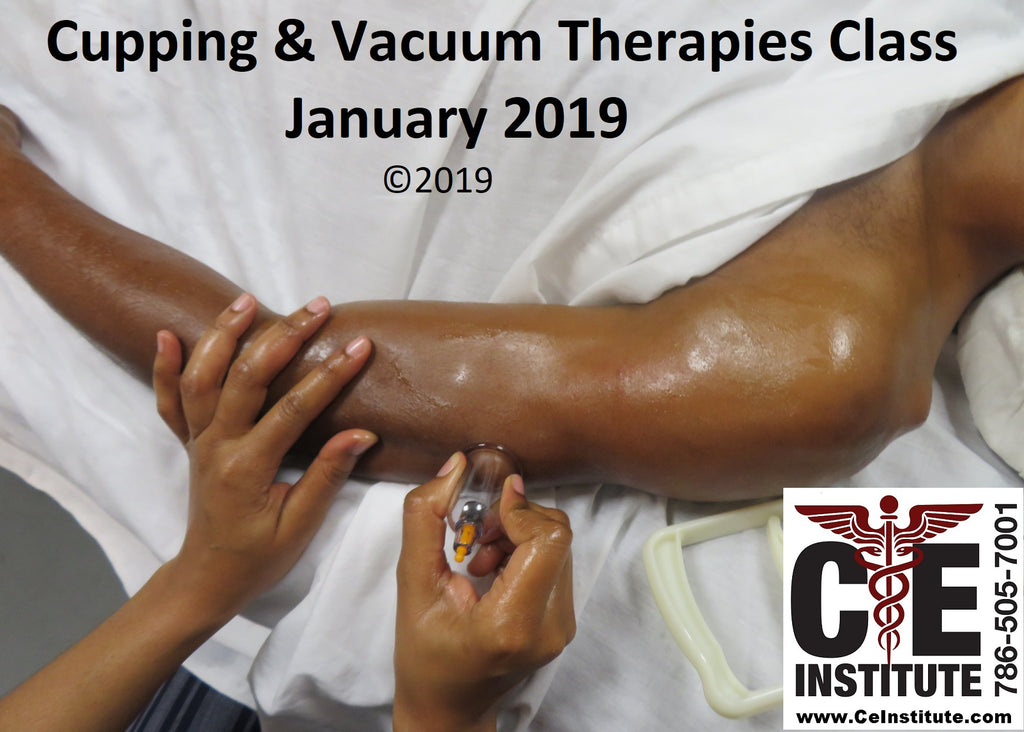 An increasing number of massage "instructors" are teaching cupping!  Cupping is a wonderful modality for LMTs to decompress soft tissues in an opposite direction of normal bodywork.  It's reverse suction. Instead of pressing downwards or inwards with your elbow or hands, cupping suctions soft tissues upwards and outwards.  We wrote an entire article about Orthopedic Cupping which was published in Massage Magazine that defines this and more last year.  Please click
HERE
to review our published cupping article.
.
Unfortunately, because different instructors are teaching a variety of cupping methods, the definition of "dynamic cupping" has become skewed.  There are now multiple definitions of dynamic cupping.  Different practitioners are applying different techniques yet calling it the same thing: "dynamic cupping".   
.
In our opinion, we feel that dynamic cupping is when two cups are placed in extensive motion. It is greater than singular cupping with one cup or hand. However, some instructors are stating dynamic cuping is bringing a client into active motion with cups placed over the soft tissues, without physically moving the cups with their own hands. Another instructor is saying dynamic cuping is an internal or external glide.  Obviously there's little agreement about what dynamic cupping is. Unfortunately, there is no cupping board or other governing body to make these definitions of different cupping maneuvers and techniques for us.  Instead, some instructors are just making it up as they go along, with total disregard of the definitions that were defined by others.
.
To avoid the inevitable confusion that will result when there is disagreement about one thing for the massage industry, we'll simply omit using the term "dynamic" in our cupping curiculum - seeing there is no agreement about what dynamic cupping is.  This will not solve our new industry problem of massage therapists having different definitions about what dynamic cupping massage is, but omitting this language from our curriculum will help our students avoid contributing to the confusion.
.
Orthopedic cupping and cupping massage is a highly effective modality that can reduce pain, increase circulation, improve range of motion (ROM) and enhance athletic performance. We hope those who wish to learn more about cupping techniques will do so with a qualified and experienced cupping massage instructor. 
.
At CE Institute LLC, Instructor Selena Belisle teaches the cupping curriculum.  Selena received her first Traditional Chinese Medicine (TCM) certificate training at the New England School of Acupuncture in Cambridge, MA in 1995.  She obtained a second TCM certification at the Beijing Hospital in Beijing China in 2001.  She is also a retired professional athlete, winning 3 WAF World Arm Wrestling titles starting in 1989 in the Athens Olympic Stadium in Athens, Greece.  Selena's experience combines professional athletics with multiple TCM certifications to bring you the very best of western cupping musculoskeletal, orthopedic and sports therapy skills.  Her cupping massage style is where East meets West and turned into BEST! 
.
.
#cupping #cuppingmassage #lmt #massage #massagetherapist #bodywork #bodyworker #massagetherapy #tcm #westerncupping #sportscupping
.
.