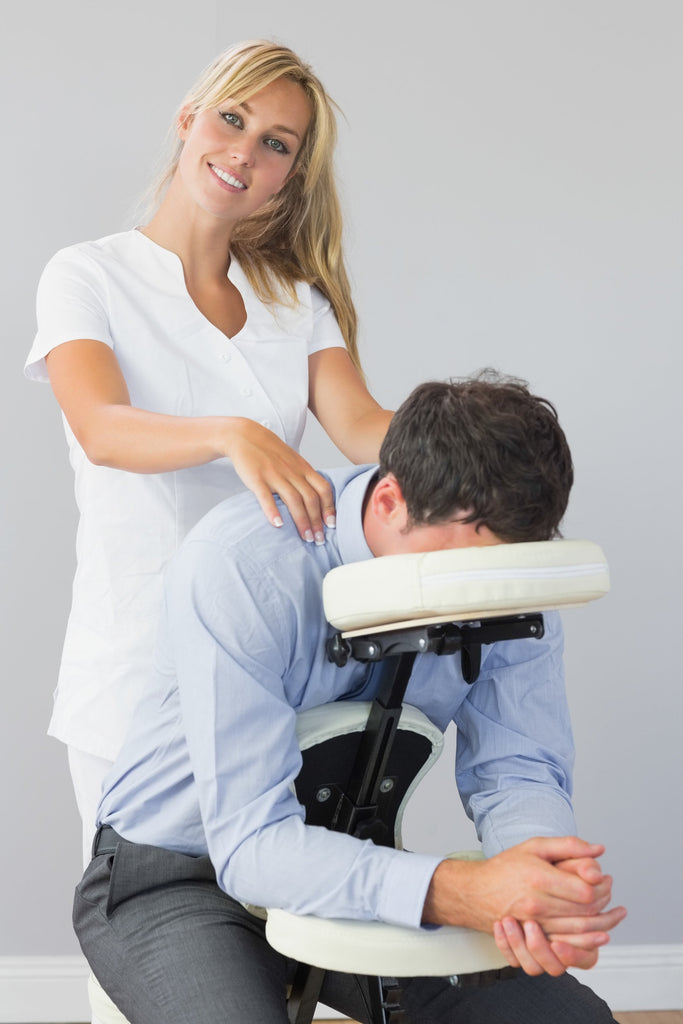 by Selena Belisle, Founder/Instructor, CE Institute LLC
Research Shows Chair Massage Reduces Anxiety
A 1996 study titled: The Effectiveness of Massage Therapy Intervention on Reducing Anxiety in the Workplace by Karen R. Shulman, Gwen E. Jones, showed chair massage can reduce anxiety:
"For 15 minutes weekly, subjects either received a massage or were allowed a break, depending on their assignment to either the treatment or control condition…Significant reductions in anxiety levels were found for the massage group."
Corporate Onsite Chair Massage Reduces Stress
Back in 1998, the Boston Business Journal featured our onsite chair massage work on their cover with a full-color photo.  The full-color photo that mentions us is no longer available in their online archives which can be accessed here:  https://www.bizjournals.com/boston/stories/1998/04/13/story3.html
The title of the Boston Business Journal article is:  "Massages, exercise help accountants deal with stress."
The Ease of Onsite Chair Massage
Onsite chair massage is fairly easy to execute with proper education.  In fact, after a couple events and experience, some therapists prefer these quicker sessions over private one-hour full body massage sessions.
Chair events allow practitioners to see a greater number of clients each day.  Seeing a greater number of clients allows for a greater number of positive changes with each massage session, which is extremely rewarding.
Chair massage events also lead to innumerous referrals for a greater amount of massage appointments.  Some clients will want additional massage time which can lead to another appointment, back at the office when one is provided.
LMTs who want to learn more about how to offer their own corporate onsite chair massage event, or how to practice chair massage itself can register for CE class with us at:  https://ceinstitute.com/collections/chair-massage-event-work
#LMT #chairmassage #onsite #corporate #massage #massagetherapy #massagetherapist #bodywork #bodyworker #onsitemassage #corporatemassage #onsitechairmassage #businessperks #employers #employeebenefit #painrelief #rom #increaserom #increasedrom #happy #employmentbenefit #office #officeworkers #secretarial #staff #computerjob #deskwork